The Nordic countries, especially Norway and Iceland, have taken major steps towards electrification of the transport with battery electric vehicles (BEVs). However, little is happening regarding larger vehicles as battery solution still are not able to provide heavy-duty users (e.g. buses, trucks and lorries) the mobility they need.
Fuel cell electric vehicles using hydrogen as a fuel can solve this. The focus of this project is on providing infrastructure for a larger scale deployment of trucks, buses and lorries. The goal of the project is to further strengthen the global technological lead of the Nordic countries by stimulating the very first hydrogen infrastructure made available for larger vehicles.
The project will deliver an analysis on large-scale transport of hydrogen with mobile pipeline, a description of the innovation and business potential for a roll-out of FC-buses in the Nordic region, as well as a coordinated action plan for stimulating the FC truck demand and a prospect for utilising hydrogen in heavy-duty equipment. Finally, the project will contribute to national and Nordic hydrogen strategy processes even providing input to a possible Nordic Hydrogen Strategy.
Visit the project website for further information
Publications
The Next Wave project has produced the following publications that are free to download:
Next Wave: Available By-product Hydrogen in the Nordic Countries
Next Wave: Large-scale Hydrogen Use in Nordic Industry 2020-2030
Next Wave: Perspectives and Potentials for Hydrogen & Fuel Cell Buses in the Nordic Region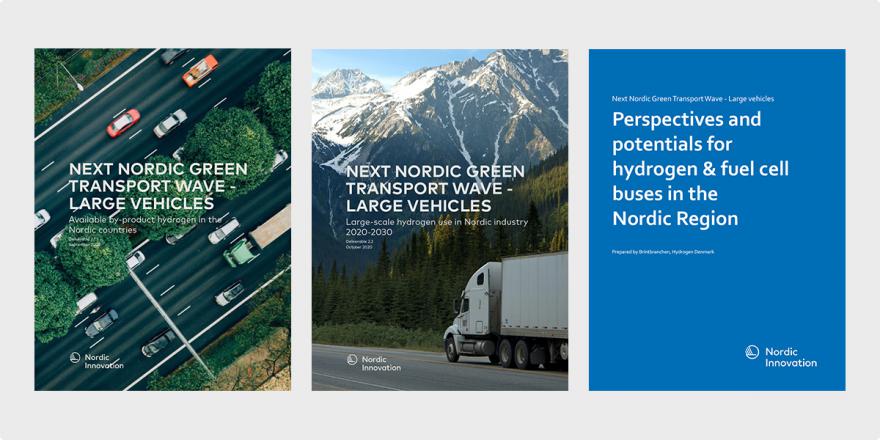 Project partners
Background
In May 2019 Nordic Innovation announced a call for proposals under the Nordic Smart and Mobility and Connectivity program. The call was meant to foster the establishment of Nordic innovation projects, new Nordic partnerships, value chains and/or business models that help to speed up the transition to a sustainable future, where Nordic citizens benefit from innovative mobility and connectivity solutions.
Nordic Innovation received 12 applications in response to the call, four of which were awarded support. The projects represent geographical variation, as well as a range of partners and project activities, in addition to the various transport modes.
Contact person
Ingebjørg Telnes Wilhelmsen, Norwegian Hydrogen Forum
itw@hydrogen.no