She has one important advice to young professionals:
"In my opinion, it is invaluable to have more experienced people around you that see the value of sharing their knowledge and insight, both for your own professional development, and not least to strengthen the work you do together. It is important to look for a workplace that is interested in investing in you and to help you develop your competencies. At the same time, it is crucial to be proactive in your own professional development by being curious and seizing the opportunities that arise.", she continues.
Only few people at her age have the same level of international experience. Hege Guttormsen is 27 years old and from Norway. She has been working at Nordic Innovation since August 2021. First, as intern, and from January 2022 she was hired as Higher Executive Officer. With a background in International Relations and several internships and study periods abroad, she is a strong believer in international collaboration and international opportunities.
We met with Hege Guttormsen for a talk about being a young professional and the transition from intern to employed.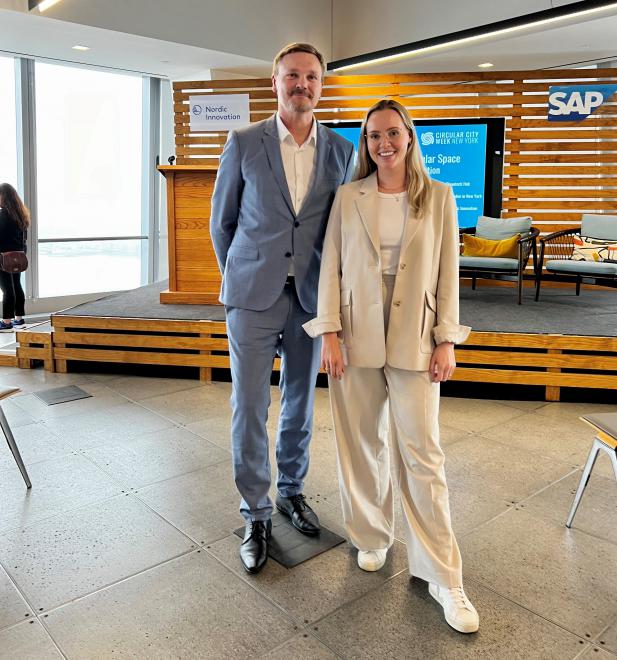 Combining international cooperation and business
Internationalization is the red thread! Hege kick-started her international career with an exchange year to the US in high school. Afterwards she moved there to study a bachelor's in International Relations at the University of Georgia. As part of the program, she decided to study two semesters abroad: one in Germany and one in India. She fell in love with India, and later she went back to work as an intern at the Consulate General of Norway in Mumbai. Whether it has been part of her studies in USA, her internship in India, her part-time hotel job in Oslo or during her internship at Lightup Norway, Hege has always enjoyed meeting and working with people from different cultures and backgrounds.
Why did you want to work at Nordic Innovation?
"A lot of students with my background decide to go into research or work in NGOs after graduation, but towards the end of my studies I realized that I wanted to find a way to work closer with the green transition of the business community. Since I did not have as much previous experience in the field, an internship seemed like a great start. With the focus of my studies being international cooperation, Nordic Innovation seemed like a perfect match for my background and interests".
You have been a part of the Nordic family for about one year. What has been the biggest challenge so far?
"The biggest challenge is perhaps that there are so many opportunities and activities happening in this organization and the different programs, and I would love to take part in all of it. We have high ambitions, and everyone is really motivated, but we have to be realistic and prioritize our efforts. That can be a challenge, but this is of course a luxury problem".
Read more about the Nordic Green Mobility program
Read more about the Smart Connectivity program
How was the transition from being intern to Higher Executive Officer?
"I think a huge strength in Nordic Innovation's internship program is that interns are treated as employees, though of course with the extra support needed. Because I felt like a part of the team and was trusted with a variety of tasks from the beginning, the transition was barely noticeable – in a good way".
Hege works with three different programs. She started out working with the Circular Business Models program and the Nordic Innovation Diversity Task Force initiative while she was still an intern, and later she became a part of the Smart Connectivity and Nordic Green Mobility programs.
Can you tell me more about the Circular Business Models program?
"The purpose of the program is to accelerate the green transition and improve competitiveness through the adoption of circular business models. It is about creating knowledge of how to implement circular principles, as well as awareness of the untapped value potential of a circular economy. We seek to move circular economy from strategy to action by, among other things, supporting cross-border and ecosystem collaborations and projects, and organizing workshops on circular business models. We also organize Nordic Circular Summit in collaboration with Nordic Circular Hotspot where we bring together a wide variety of circular economy stakeholders to explore and showcase the innovative, circular solutions and opportunities in the Nordics".
Read more about the Circular Business Models program
Read more about The Nordic Task Force For Diversity program
Nordic "trust" is key to circular transition
When we ask Hege about some of the highlights during her first year at Nordic Innovation, she mentions Circular City Week which took place in New York in the beginning of May 2022. Hege participated at the event together with two colleagues.
"Participating in Circular City Week gave us the opportunity to discuss and network with circular stakeholders from a variety of countries, backgrounds and organizations. It was valuable to get a deeper understanding of the differences in approach in the US and the Nordics, for example in the relation between the public and private sectors. It was also really interesting to see all the Nordic companies showcasing their circular solutions at the dedicated Nordic Circular Space".
If you should point out one international challenge, where you think the Nordics offer the solution, what would that be?
"It is difficult to point out one specific challenge that the Nordic countries have found the solution to. However, I think the 'Nordic model' with a high degree of trust and shared values, coupled with complementary strengths and a willingness to collaborate, gives the Nordic region a great starting point to act unitedly to address international challenges. Perhaps even an obligation to do so".