That is one of the main conclusions in a new report made by Dalberg Reseach for Nordic Innovation. The report also identifies several low-hanging fruits. By comparing the export performance of each Nordic country to a group of peer countries, looking at existing strongholds and analysing global megatrends, Dalberg Research has identified several clear-cut export opportunities for Nordic companies in emerging markets, seen in the illustration below.
Nordic collaboration and innovation
The report argues that global megatrends such as economic growth, population growth and infrastructure improvements will generate several new business opportunities for Nordic companies.
Additionally, more modern technology, resource scarcity and population ageing means high potential for Nordic companies who are able to innovate new products, services and business models.
The report also emphasises the potential for enhanced Nordic collaboration, both in terms of between companies, sectors and borders, which may spur innovation and easier market entries.
"Entrance costs are high in several of the emerging markets, but the Nordic companies can reduce costs by joining forces due to economy of scale", says Rasmus Wendt, senior adviser at Nordic Innovation.
"Furthermore, Nordic collaboration in these markets open up possibilities for a stronger branding platform", Wendt adds.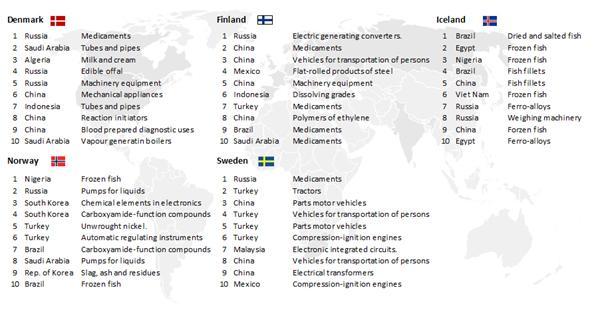 Initiatives already taken
Based on an analysis of global megatrends, the report argues that the most attractive areas to target for Nordic companies in emerging markets are food, health, energy and infrastructure.
Nordic Innovation already has several initiatives going in the very same areas. Throughout 2014 Nordic Innovation and the Nordic export councils will arrange two-three innovation camps in emerging markets for Nordic companies with a view to work on so-called frugal innovation (the process of reducing the complexity and cost of a good and its production).
"The Nordic companies faces the same challenges in the years to come and it makes scene to work together in some of the more difficult markets", says Wendt.
Also read: Frugal Innovation Provides Promising Strategy to Enter Emerging Markets