Læs om Nordic Innovations arbejde og rolle i det nordiske samarbejde
Vi støtter de nordiske statsministres vision om, at Norden skal være den mest bæredygtige og integrerede region i verden i 2030.
Vores arbejde
Vi arbejder mod vision 2030 gennem tre innovative missioner:
Et affaldsfrit Norden.
En banebrydende region indenfor grøn mobilitet .
Førende indenfor bæredygtig vækst.
Gennem disse missioner arbejder vi for at nå målsætningerne i de 8 programmer for et grønnere erhvervsliv i 2021-2024, som blev lanceret af de nordiske erhvervsministre i 2020.
Læs mere om de otte initiativer
8 programmer – nye initiativer for 2021-2024
I September 2020 lancerede de nordiske erhvervsministre 8 nye programmer, som har til hensigt at bidrage til bæredygtige løsninger, cirkulær økonomi, digitalisering og innovation.

De nye programmer kører fra 2021 til 2024. Det er de nordiske erhvervsministre, som har udviklet de 8 programmer. Programmerne er et resultat af politiske initiativer fra de forskellige nordiske regeringer og de dækker over en lang række områder.
De otte programmer:
Tidligere programmer
Vi har tidligere støttet og arbejdet med projekter som en del af programmet:  Cooperation Program for Innovation and Business 2018-2021.
Nordic Innovation udviklede 3 programmer for perioden 2018-2021. Programmerne tog udgangspunkt i en række styrkepositioner, som de nationale innovations- og eksportråd havde identificeret. De tre programmer var: Nordic Smart Mobility and Connectivity, Nordic Sustainable Business Transformation and Health, Demography and Quality of Life.
Bæredygtighed og digitalisering var tværgående elementer i alle tre programmer. De integrerede også FN's Verdensmål for Bæredygtig Udvikling med hovedvægt på at gøre Norden til en CO2-neutral region.
Sammenhæng mellem programmerne: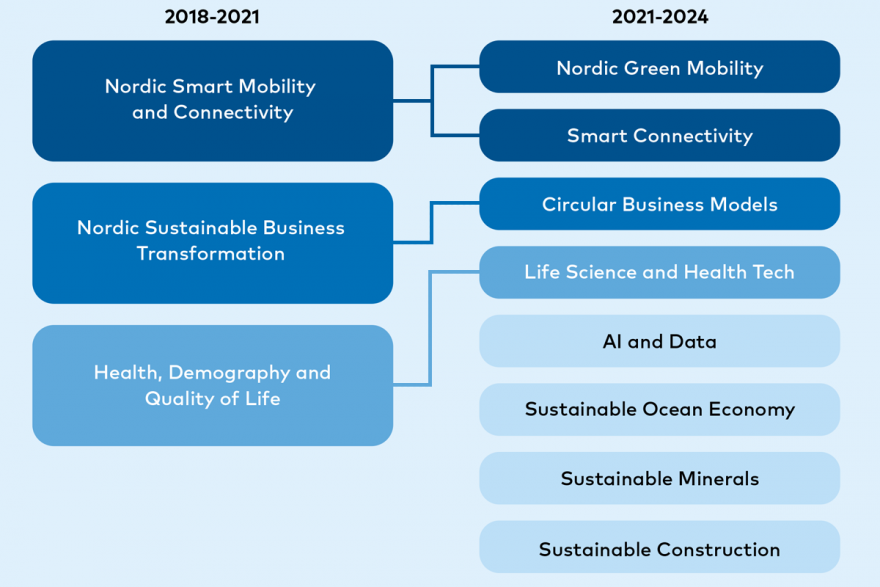 Vores rolle
Nordic Innovation fungerer som:
en katalysator og facilitator for Nordisk samarbejde og økosystemer.
Vi tror på, at nordiske lande er stærkere sammen og kan opnå mere i fællesskab. Vores fælles værdier og forskellige kompetencer giver os et unikt udgangspunkt for innovation. Ved at bringe virksomheder, mennesker og organisationer tættere sammen, skaber vi grundlaget for løsninger og innovation, som kommer borgerne i de nordiske lande – og resten af verden – til gode.
For at reducere risikoen, kan vi ligeledes bidrage til finansieringen af nordiske projekter gennem diverse redskaber.
Nordic Innovation deltager kun i aktiviteter, som bidrager til nordisk merværdi. Der er tale om nordisk merværdi, når samarbejde på tværs af grænser skaber mere værdi, end hvis den pågældende aktivitet var foregået på udelukkende nationalt niveau.
Eksempler på nordisk merværdi er f.eks. at etablere et stærkt nordisk marked, at teste og udbrede nordiske løsninger, at udvikle eller styrke fælles nordiske politikker og standarder eller ved at styrke det nordiske brand internationalt.
Ansatte
Vores kontor ligger i Oslo, Norge. Her sidder 20 kvalificerede medarbejdere fra alle de nordiske lande og med erfaring fra forskellige forretningsområder og brancher. Vi deler administration og lokaler med NordForsk og Nordic Energy Research, som også er en del af Nordisk Ministerråd.
Det nordiske samarbejde
The Nordic Council of Ministers is the officielle mellemstatslige organ for samarbejde i den nordiske region. Nordisk Ministerråd er de nordiske regeringers officielle samarbejdsorgan omkring Norden. Norden består af Sverige, Danmark, Norge, Finland og Island samt de selvstyrende områder i Grønland, Færøerne og Åland.
Læs mere om det officielle Nordiske samarbeide