We sat down for a virtual talk with Trine Moa about strategy, why she chose the Nordic Cooperation and how we have worked with thematic programs for the past four years.
Trine Moa is Senior Adviser in Strategy and Governance at Nordic Innovation. Trine has more than 15 years of experience working with strategic planning, developing and implementing methodology and tools for results management, evaluation and learning.
Why did you want to come work at Nordic Innovation and with Nordic cooperation?
"After many years working on very rigid methodologies for results management in the aid sector, I was drawn towards the opportunity to work on developing new and mixed methodologies, tools and systems for monitoring and measuring societal impact as well strategies for sustainable growth and innovation. This is particularly interesting since to achieve sustainability, joint activities and problem solving between a variety of actors have been seen as crucial to create innovation facilitating these transformations.
As part of my job is also to contribute to sharpening Nordic Innovation's role in the Nordic innovation ecosystem, it led me to my master thesis where I have been exploring the complexity, role and functions of innovation brokers, such as Nordic Innovation, in system innovation and sustainability transitions. The study implies that sustainability transitions need innovation brokers or intermediaries, because they particularly have a role in voicing new visions to pilot and test innovative solutions, and as convenors they can bring together the different people involved to change a system.
...they are likely to act as catalyzers or sparks of inspiration on which Nordic stakeholders can build, scale and further develop co-operation and Nordic wide ecosystems.

– Trine Moa on Nordic Innovation's projects and programs.
As such the possibility to learn something new and to use my knowledge and experiences from earlier led me to Nordic Innovation and Nordic cooperation. The possibility to contribute to a better understanding of how to monitor and measure the impact of system intermediaries in sustainability transitions, as well as how an innovation intermediary process and its instruments and tools can be designed to intervene in all levels of a system, was a key driver for me", says Trine Moa.
Tell me about the Nordic Co-operation program for Innovation and Business 2018–2021 and how you operationalized it at Nordic Innovation?
"Nordic Innovation is a key player in the implementation of the Co-operation Programme. An internal work process was initiated in the autumn of 2017 with the aim of operationalising the co-operation program, giving it a mission, and creating a professionally sound basis for being able to make specific priorities. An important aim for the process was to create a holistic and coherent approach. Individual projects, activities and initiatives were all to be seen in context and be rooted in strategy and the priorities that have been made within the framework of the co-operation program. The methodology included mapping of national innovation policies, in all Nordic countries, seen in connection with the EU's priorities within the innovation area (Horizon), the UN's sustainability goals, and Nordic and national positions of strength" explains Moa.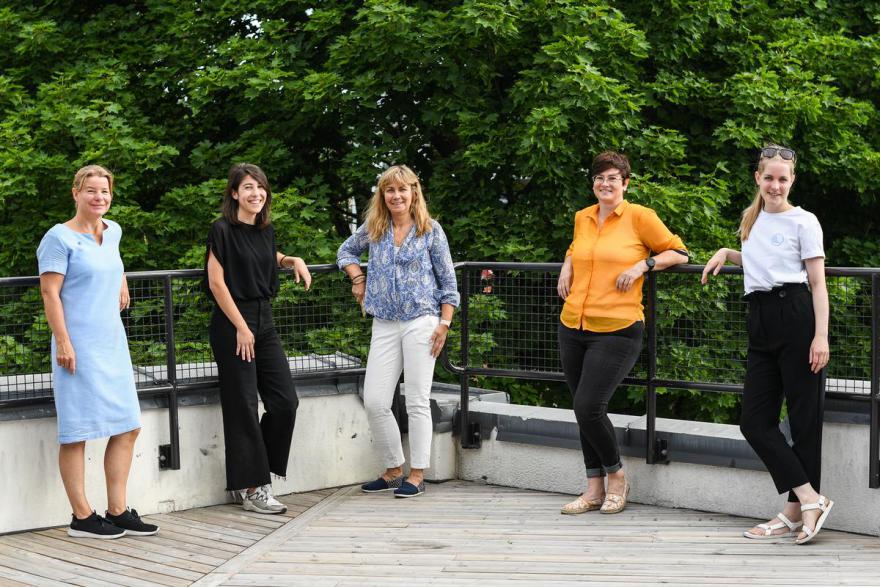 She describes the operationalisation process that resulted in three programs: Nordic Sustainable Business Transformation, Health, Demography and Quality Life and Nordic Smart Mobility and Connectivity. The programs are all cross-sectoral, open, wide-ranging and allow for final concretisation and delimitation to take place at activity level. Simultaneously, the programs indicate direction and Nordic positions of strength - in response to Nordic and global challenges. By using broad definitions, Nordic Innovation considers technological development, innovation and changes that cannot be predicted at present, concurrently as stimulating innovation and cooperation across sectors and ecosystems. The co-operation programme describes the primary challenges and areas for co-operation and set a clear direction for Nordic cooperation on business policy.
How has your strategy helped to achieve concrete deliverables?
"We work with Theory of Change, which is useful to summaries the work at a strategic level as it gives opportunities for cyclical processes and feedback loops. Theory of Change help us articulate the assumptions about the process through which change will occur and specifies the ways in which all the required early and intermediate outcomes related to achieving a desired long-term change will be brought about and documented as they occur" states Moa and continues,
"We are aware that the individual projects or programs are by themselves insufficient to generate the longer term real impact aspired to by the Nordic Ministers. Rather, they are likely to act as catalyzers or sparks of inspiration on which Nordic stakeholders can build, scale and further develop co-operation and Nordic wide ecosystems".
Where do you see the Nordic Cooperation in the future?
"We have so much to learn from each other in the Nordic region. We have to a large extent similar social and structural systems, we have focus on the same challenges and because of this the Nordics can form initiatives with a large impact on systems in the Nordic region and beyond. Together we can contribute to progress in many fields, work with long-term solutions and shape the vision for the future.
For Nordic Innovation, our role as innovation intermediators and with our activities running with a limited engagement period, it makes it harder to demonstrate long-term results. I expect that the continued work we do in innovation will create long-term impact, that will be visible throughout the Nordic region. My hope is that the Nordic Cooperation will understand and see the importance of these long-term initiatives".
​When you began working for Nordic Innovation in 2017, how was the process and collaboration with stakeholders?
Moa describes how the administration carried out a comprehensive mapping and idea collection in 2017. Many bilateral meetings took place with a wide range of relevant actors in all five Nordic countries. This included public actors such as innovation authorities and ministries, as well as business clusters, research communities, interest groups and start-up communities.
"To inspire society at large, and to ensure that it has the necessary legitimacy, acceptance and relevance, the program development and implementation process included all relevant actors, in the co-design, co-implementation, and co-evaluation of the activities" explains Trine Moa.
Trine Moa concludes that Nordic Innovation works as an intermediator with the task to support ecosystems and enable cross border collaboration for sustainable growth and to promote entrepreneurship, innovation, and competitiveness of Nordic business.